Stephanie Sikora - Registered Psychologist
Stephanie Sikora, Registered Psychologist

with Active Balance Health Centre
Welcome to Stephanie Sikora, Registered Psychologist, who joined the Active Balance Health Centre team on May 1, 2019.
Stephanie is accepting patients on Tuesdays and offers initial sessions between the hours of 12 pm and 5 pm.  By request for subsequent sessions, evening appointments are also available.
To book an initial session with Stephanie, please email her to arrange a time to complete an intake.  The intake will be completed over the phone.  This is done to make sure that Stephanie is the right psychologist for you and can work with you to meet your goals.
Email: ssikora.rpsych@gmail.com
Rates: $200 per 50-minute session (individual, couples or family session). This is the recommended fee schedule as per the Psychologist's Association of Alberta.
Services outside of the therapy hour (such as phone consultation and letter writing) are billed at the same rate and can be adjusted to 10-minute increments.
Payment is made at the end of each session and you will be provided with an official receipt to obtain reimbursement from your insurance provider. We are unable to provide direct billing at this time.
Payment can be made by debit, credit card or cash.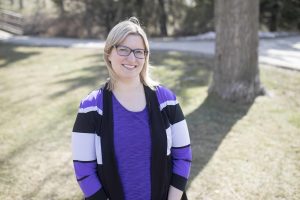 Stephanie is a Registered Psychologist with the College of Alberta Psychologists.  She holds a Master of Counselling (President's Honors) from City University of Seattle and a Bachelor of Science in Psychology from the University of Calgary.
She completed her master's practicum as well as a year-long counselling residency at Calgary Counselling Centre, where she gained extensive experience working with clients of all ages and a diverse array of presenting concerns. She also has experience working in primary care settings through Alberta Health Services, and in private practice. She is excited to join the team at Active Balance Health Centre, as she knows that mental health plays an essential role in our overall well-being.
Stephanie works with adults of all ages in individual, couples and family settings. As a former preschool teacher, she also enjoys working with children/adolescents (ages 5 and older) and their parents.
Areas of counselling include:
Anxiety
Depression
Stress
Self-esteem
Anger management
Insomnia
Separation and divorce
Boundary setting, assertiveness, and communication skills
Child and adolescent counselling
Parenting skills
Couples and marital counselling
Family relationships
Goal setting and values exploration
Stephanie is a client-centered psychologist who provides a safe and supportive environment where she works collaboratively with you to reach your counselling goals. She welcomes clients from all backgrounds, provides culturally sensitive counselling, and is an LGBTQ+ ally. She strives to build on an individual's unique strengths and abilities, while offering new perspectives and skill development to enhance well-being. She tailors her therapeutic approach to each client's specific needs, incorporating cognitive behavioural (CBT), solution-focused (SFT), acceptance and commitment (ACT), and mindfulness-based interventions. She incorporates play-based and art-based interventions while working with children and adolescents. She also incorporates Gottman method interventions in her couple's and martial counselling.
When she isn't working, Stephanie enjoys spending time with her horses, dogs and cats. She horseback rides for fun and trains and competes in canine agility with her golden retriever mix. She also enjoys paint nights and escape rooms with friends.